---
<![if !mso]><![endif]>

Our custom travel gun cases are handcrafted from solid hardwoods. Each gun case is unique in design and may feature relief carvings, inlay, recessed images, and text engraving. Black Forest Woodworks builds rifle, shotgun, and pistol cases that can be sized for one gun or multiple guns. We will work with you personally from conception to completion so that your gun case will be treasured for generations.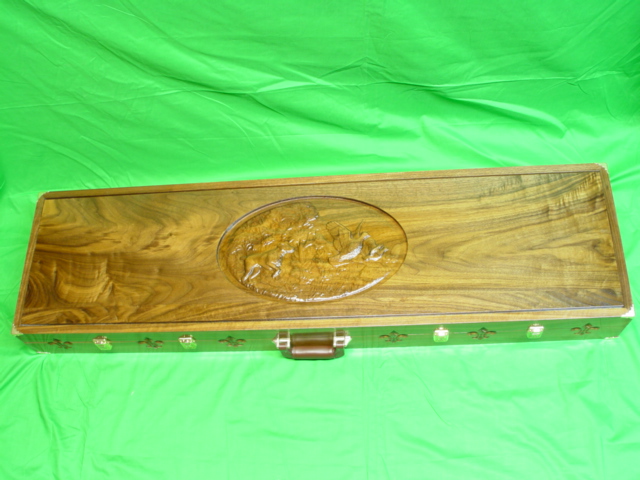 Select from our 3D relief design gallery for detailed carved images. Our design gallery includes wildlife, nature scenes with beautiful mountains and forests, western, military, and hunting themes. Whether you hunt pheasant, ducks, grouse, turkey, deer, or elk, we can custom design the lifelike carved images for your unique gun case.
We can also create a custom CNC carved gun case panel from a digital profile photo. From your digital profile photo of your hunting dog, for example, we will immortalize that special photo in a custom CNC carving. Customers interested in a copyrighted image (company logos, sports teams, college emblems, etc.) would need to obtain and provide a written release giving us permission to duplicate the copyrighted image for the design of the gun case panel. All gun case pricing is quoted on an individual basis. Please download & complete the Custom Project Form to get your personalized quote or complete the form online here.
Black Forest Woodworks gun cases have the following features:

· <![if !vml]>
<![endif]>Solid hardwood panels
· Brass locking latches
· Solid brass piano hinge
· Protective brass corners
· Brass lid stops
· Reinforced leather handles
· Protective convoluted foam lining
· Non-skid rubber feet
· Floating lid and base solid hardwood panels
· Three coats of clear finish to protect gun case from the elements
The custom gun case pictured was built from selected pieces of solid walnut hardwood for an avid bird hunter. It features detailed wildlife 3D relief carvings, recessed carvings, text engraving, and relief carved images we created from a digital picture. It is large enough to hold two scoped rifles or two shotguns or a combination of the two.
The outside dimensions of this gun case are 14 ¾" W x 53 ½" L x 6" H and weighs approximately 40 pounds empty.
On the lid panel of the gun case there is a 3D relief carved image of a hunting dog with grouse. We use protective brass corners and three coats of clear finish to protect the gun case from the elements. Both the lid and base solid hardwood panels are floating to allow for seasonal movement of the wood due to humidity changes.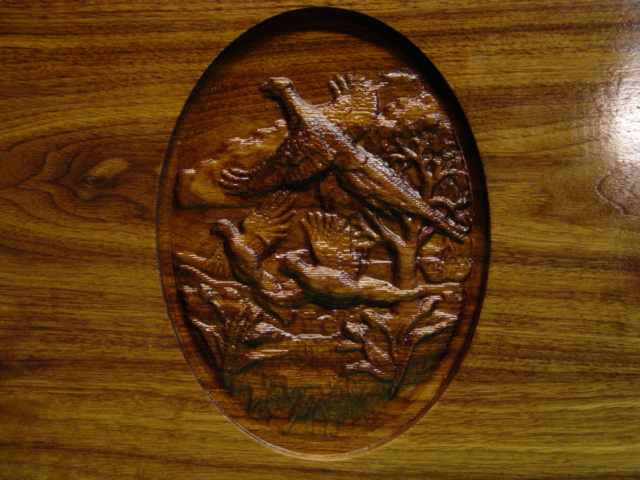 The center of the base panel features pheasants in a relief carved image.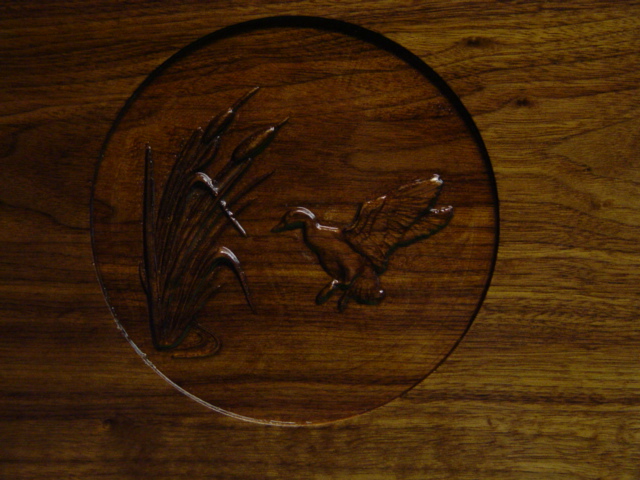 There are relief carvings of ducks with cattails at both ends of the base panel. We are able to scale the relief images to complement the size and style of your gun case.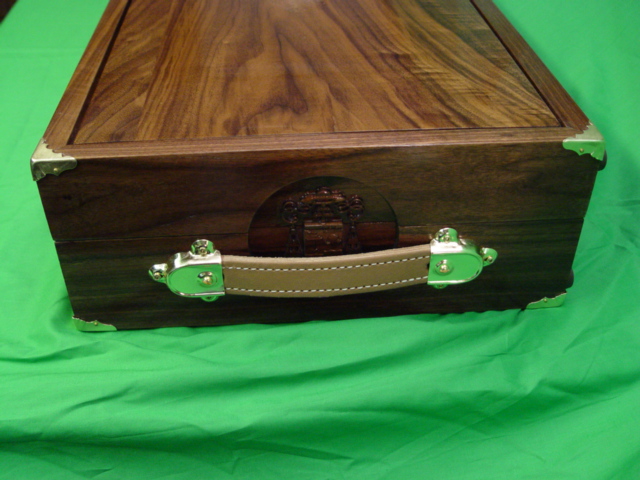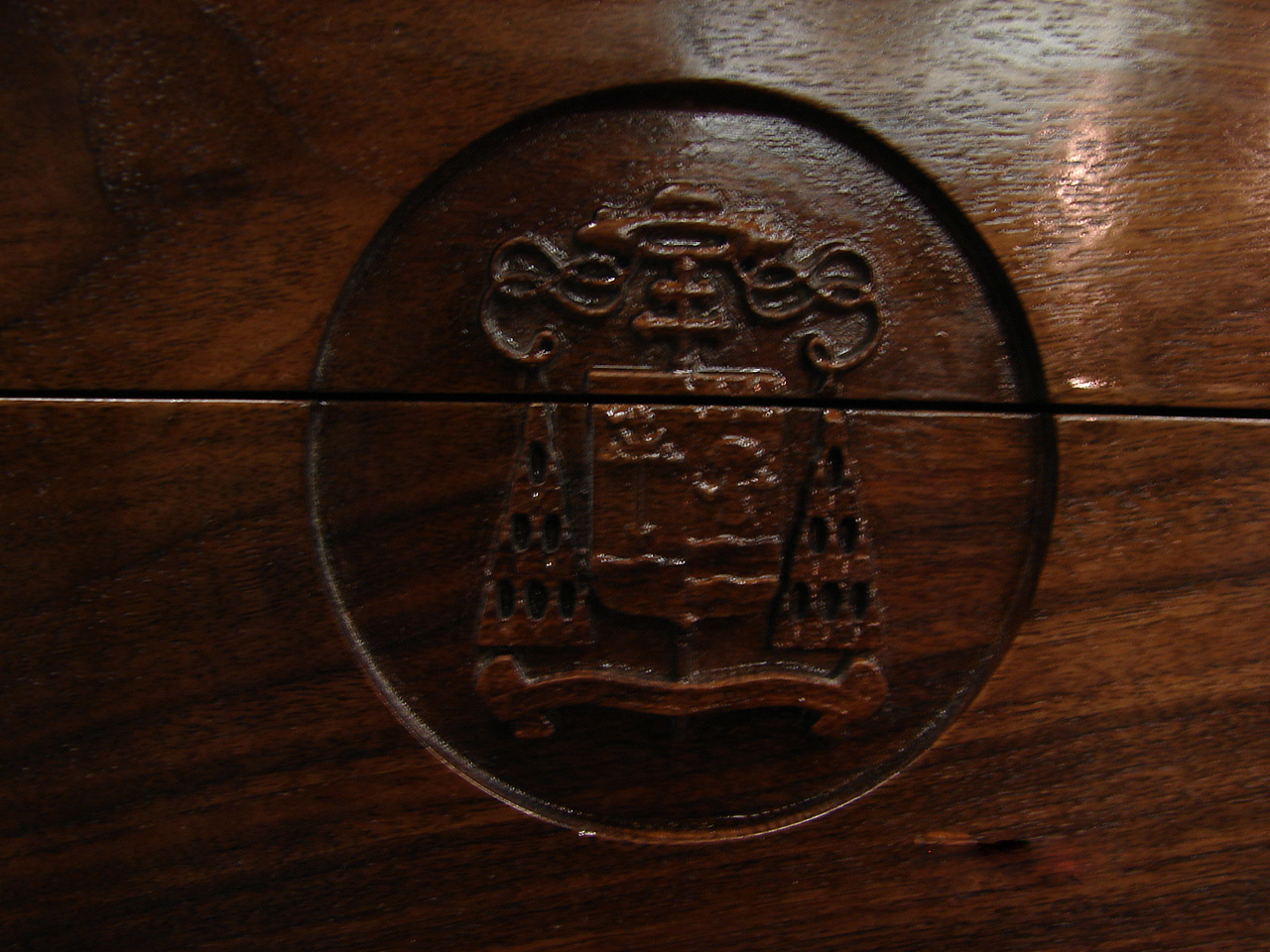 From a digital picture we created a relief carved image of a coat of arms. This image was carved into the sides of the gun case forming the complete image when the case is closed. Expert craftsmanship and attention to detail make each Black Forest Woodworks creation a lasting treasure.
<![if !vml]>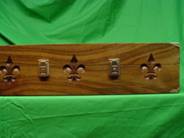 <![endif]><![if !vml]>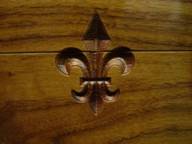 <![endif]><![if !vml]>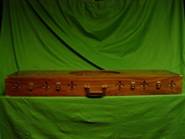 <![endif]>Along the upright side of the gun case are a series of brass locking latches. The recessed carvings of the fleur-de-lis were carved into the upright side of the gun case forming the complete image when the case is closed.
We incorporated design elements that were meaningful to this hunter in the development of his gun case. The bottom side of the gun case features text engraving of the names of his three hunting dogs. Personalized custom features will make your gun case unique and distinctive.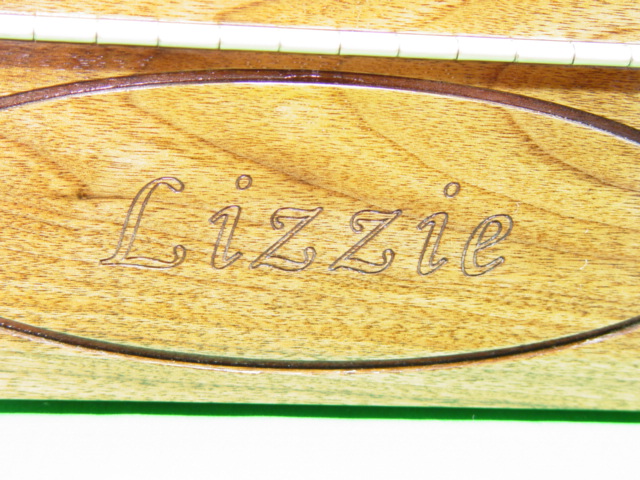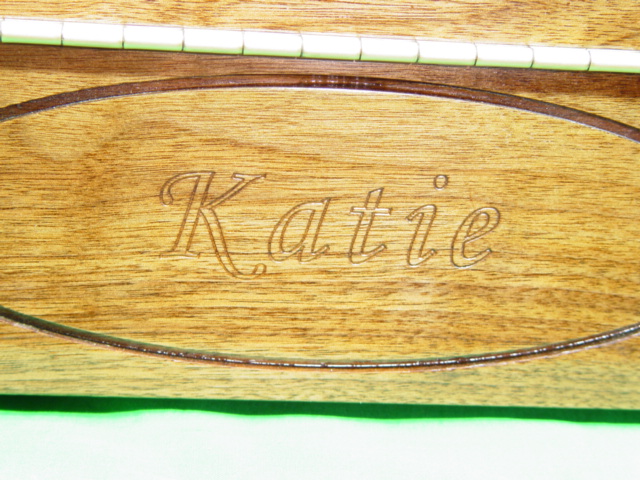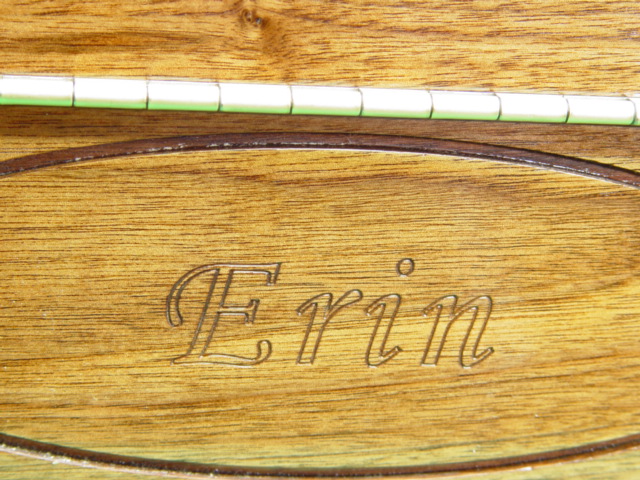 The inside of the case is lined with protective convoluted foam. We use a solid brass piano hinge, brass lid stops, non-skid rubber feet, a top side mounted leather luggage handle, and reinforced leather handles on the sides for easy transport.
<![if !vml]>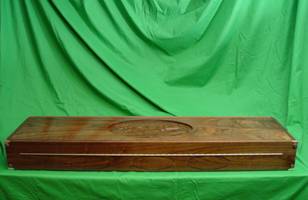 <![endif]><![if !vml]>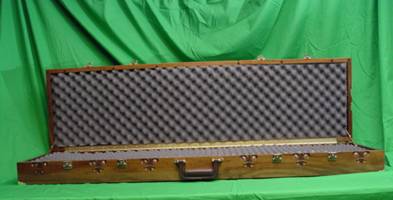 <![endif]>
Our professional design service works with you to include custom elements. Our attention to detail and ability to create 3D relief carved images, inlay, and recessed carvings make our products unique and beautifully handcrafted. We look forward to working with you to design your special gun case. At Black Forest Woodworks, "Your Imagination is Our Only Limitation".