---
Military Flag Displays and Medal Cases for all branches of the military have been created in tribute to the men and women who have bravely defended our freedom by Black Forest Woodworks. Black Forest Woodworks is an American, family-owned woodworking business. We build custom solid hardwood products featuring ornate 3D woodcarvings. All of our products are made in the USA by Americans. We use only select American solid hardwoods.
<![if !vml]>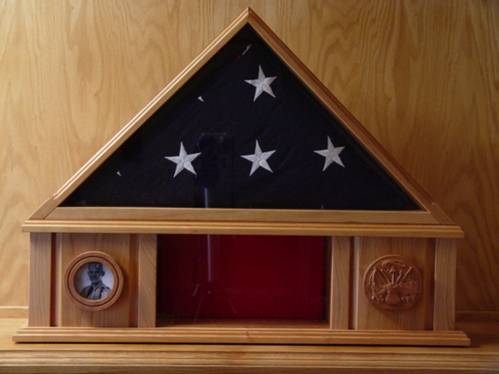 <![endif]>
<![if !vml]>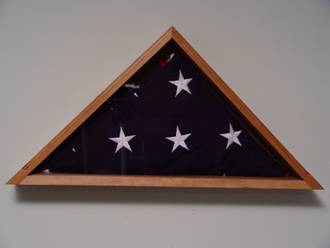 <![endif]>

<![if !mso]><![endif]>

The Military Flag Display case holds a folded 5 x 9 and a half feet burial flag. This case is built from solid American cherry hardwood.

The Military Flag Display case is also available in American Black Walnut. Each case is hand finished to bring out the natural beauty of the wood.

<![if !vml]>

<![endif]>
The words "United States" are carved into the left side of the case.
<![if !vml]>

<![endif]>
The branch of the military in which the deceased veteran served is carved into the right side.
<![if !vml]>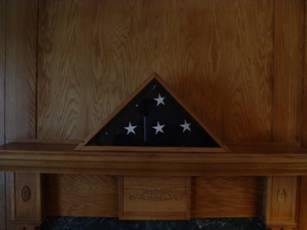 <![endif]>
We use .220 inch thick heavy-duty Plexiglas in our flag displays because it is stronger and safer than glass. The flag display measures 27 3/8" across the base, 13 ¾" high at the peak with sides 19 3/8" long. This classic flag display may be mounted on a wall or set on a table or mantle.
<![if !vml]>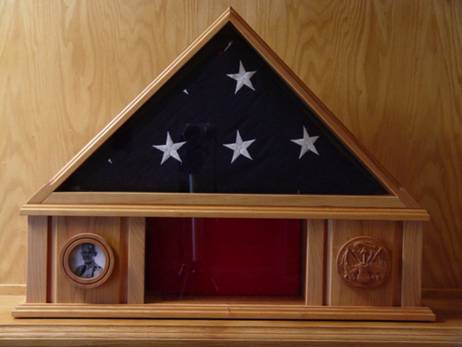 <![endif]>
The flag display magnetically mounts to this handcrafted pedestal. Black Forest Woodworks flag display pedestals are made from solid cherry or walnut hardwood with matching plywood side panels. There are non-skid rubber feet on the underside of the pedestal.
<![if !vml]>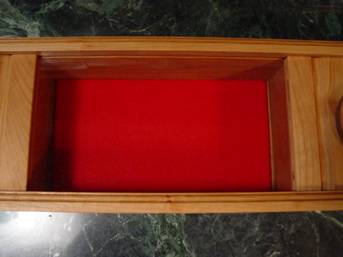 <![endif]>
The felt-lined shadow box displays the medals and ribbons of the deceased patriot.
Select from 10 different felt colors.
<![if !vml]>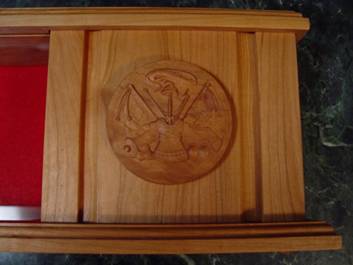 <![endif]>
Custom features of the pedestal include protective .220 inch thick Plexiglas and a 3D carving of the military branch emblem.
<![if !vml]>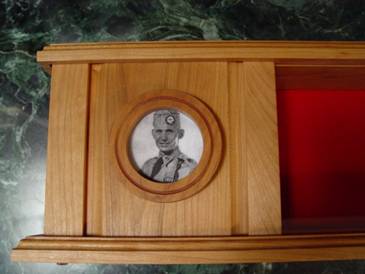 <![endif]>
Each pedestal includes a 3 ¾" diameter picture frame.
The picture frame and the military branch emblem are magnetically mounted and are interchangeable.
<![if !vml]>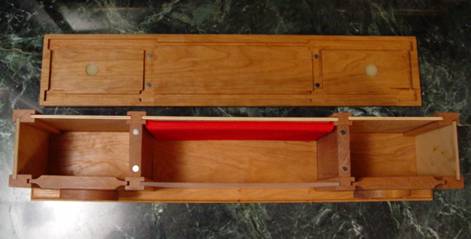 <![endif]>
The top of the pedestal lifts off for easy access to a cork-backed, felt-lined display for medals, awards and ribbons and two 130 cubic inch storage compartments.
These storage compartments provide space for a burial urn and priceless keepsakes–letters, newspaper clippings, military dog tags, photos.
This is the ideal place to keep stories and preserve the honored patriot's legacy.
<![if !vml]>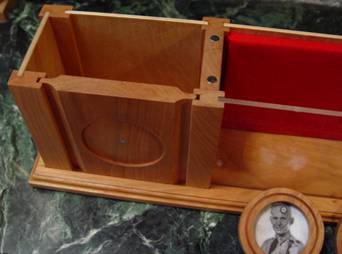 <![endif]>
Optional features are available for the Military Memorial Pedestal.
The slide in left plywood rear panel can have a music box movement that plays "America the Beautiful" or another song from our tune list.
We are happy to install any 18-note music movement you provide. Please indicate you have a music movement for us to install on our Custom Projects page.
Another optional feature is custom text engraving of the patriot's name and rank, dates of service and deployment, and meaningful quotes.
Please use our Custom Projects page to obtain a price quote on our custom engraving.
Our professional design service works with you to include custom elements. We look forward to working with you to design your special military memorial flag display and pedestal. At Black Forest Woodworks, "Your Imagination is Our Only Limitation."
Please specify wood code, military branch style code, felt color, and music movement selection when ordering. We are happy to provide a quote on custom text engraving on our Custom Projects page.
Military Flag Display $199.00 plus shipping and handling Product Code: MLFLGD
| | | |
| --- | --- | --- |
| | Product | Select Military Branch, Wood Type |
| <![if !vml]><![endif]> | MLFLGD | |
Military Medal Case Pedestal $349.00 plus shipping and handling
Product Code: MLMCPD
| | | |
| --- | --- | --- |
| | Product | Select Military Branch, Wood Type, Felt Color |
| <![if !vml]><![endif]> | MLMCPD | |
Military Medal Case Pedestal with music movement from our tune list $389.00
Product Code: MLMCPD-M
| | | |
| --- | --- | --- |
| | Product | Select Military Branch, Wood Type, Felt Color, Music Movement |
| <![if !vml]><![endif]> | MLMCPD-M | |
Military Flag Display & Medal Case Pedestal $479.00 plus shipping and handling
Product Code: MLDPD
| | | |
| --- | --- | --- |
| | Product | Select Military Branch, Wood Type, Felt Color |
| <![if !vml]><![endif]> | MLDPD | |
Military Flag Display & Medal Case Pedestal with music movement
from our tune list $519.00 plus shipping and handling
Product Code: MLDPD-M
| | | |
| --- | --- | --- |
| | Product | Select Military Branch, Wood Type, Felt Color, Music Movement |
| <![if !vml]><![endif]> | MLDPD-M | |