---
The pen case is made from maple. The protective wooden case may have up to four lines of engraved text.
Font options are Art Script and Engraver as pictured below.
Wooden pen cases may be carved with any of six image styles.
Custom engraving and relief carving charged per pen case:

Engraved text only an additional $8.50 (Product Code: PCTEXT),
3D relief carved case with/without text an additional $14.95
(See Product Codes below).
Please specify wooden case style code, font style, and text to be engraved on each line. Please note character limits per line based on font style and wooden case selections. Spaces between letters/numbers and punctuation are to be included in character count total (example: Best Wishes Graduate has a character count total of 20). Font options are as follows:
Art Script
ABCDEFGHIJKLMNOPQRSTUVWXYZ
abcdefghijklmnopqrstuvwxyz 0123456789
Engraver
ABCDEFGHIJKLMNOPQRSTUVWXYZ
abcdefghijklmnopqrstuvwxyz0123456789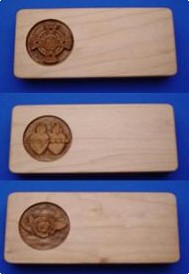 Pictured at left carved maple pen cases with images
(from top to bottom):
Celtic Cross,
Sacred & Immaculate Hearts, and
Rose
Pictured below pen case image styles from left to right
(Note: Font Styles-Left:Engraver, Right:Art Script)



3D Relief Carved Case - an additional $14.95
Style

Select Engraving Font and Text


Pen Case with Text Only-No Image

(24 Characters per Line max.)



PXTEXT

$8.50/ea


Celtic Cross Image
(Select Engraving, if desired)


(12 Characters per Line max.)



PCCC


$14.95


Celtic Heart Image
(Select Engraving, if desired)


(12 Characters per Line max.)



PCCH


$14.95


Our Lady of Guadalupe Image
(Select Engraving, if desired)


(12 Characters per Line max.)



PCOLG


$14.95


Rose Image
(Select Engraving, if desired)


(12 Characters per Line max.)



PCROSE


$14.95


Sacred & Immaculate Hearts Image
(Select Engraving, if desired)
(12 Characters per Line max.)



PCSIH


$14.95


Abraham Lincoln Image
(Select Engraving, if desired)
(12 Characters per Line max.)



PCABE


$14.95