---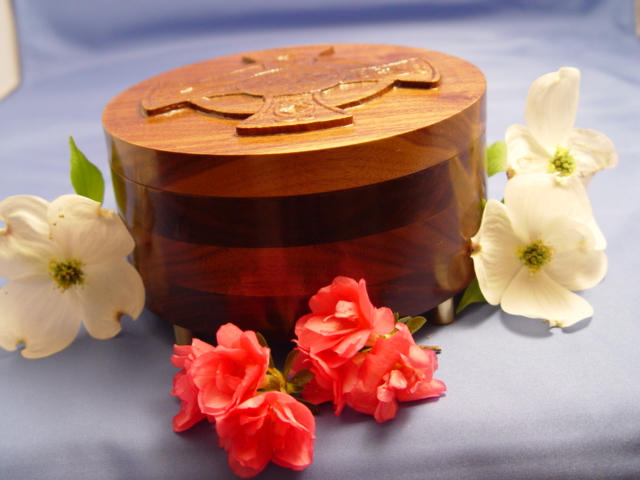 Our music boxes are handcrafted from selected pieces of solid cherry or walnut hardwoods.
Unlike other music box manufacturers who mass produce identical music boxes, Black Forest Woodworks handcrafts each music box with attention to detail and expert craftsmanship.
The beautiful naturally occurring characteristics of the hardwood (i.e. heartwood, sapwood, figured) used to create each music box are fully visible since we use a clear finish not colored stains, dyes, or veneers. This makes the appearance of each music box unique and distinctive from the other music boxes we have handcrafted.
The base is Baltic Birch plywood which is the preferred wood for sound resonance. The hinge and feet are solid brass.
To provide an environmentally safe finish, we hand apply three coats of clear polyurethane finish on each music box. Then after the finish has completely cured, we hand buff each music box with a wax polish.
We hand build each music box using quality American made materials (and an imported music movement).
We are the only producers of completely round wooden music boxes.
All music boxes are 6" in diameter and 3 ˝" high and are available in cherry and walnut.
Style Codes ending with an "E" may be engraved. Border styles are indicated as follows:/Rosette, /Celtic, /Laurel Ribbon/Rope.
Please specify wood code, style code, felt color, any engraving if applicable, and music movement selection when ordering.
Music boxes in cherry or walnut from our design gallery with one of our standard tunes are $118.00 each.
Product Code: MB6R
Select from:
Religious/Ramoni Collection,
Irish/Celtic/Kelly Kreations,
Patriotic,
Nature/Wildlife,
Classic,
Nautical, or
Western.
A printable Music Box Order Form can be downloaded from here.
*** CUSTOM MUSIC BOX OPTIONS ***
We can create a custom CNC carved music box lid from a digital photo of your loved ones.
Whether it is a digital profile photo of a happy couple, a grandchild, or a pet, we will immortalize that special photo in a custom CNC carving. If you have an object that is within the following dimensions: 11" long x 7" wide x 2" high, we can digitize it then carve it into a music box lid.
Customers interested in copyrighted images (company logos, sports teams, college emblems, etc.) would need to obtain and provide a written release giving us permission to duplicate the copyrighted image for the design of the music box lid.
Custom music box pricing would be quoted on an individual basis.
Engraving font options for Butterflies, Celtic Weave and Floral Heart are Art Script and Engraver.
The Butterflies music box may have one line of text and is limited to a maximum of three characters in either font style.
The Celtic Weave music box lid may have one line of text and is limited to a maximum of five characters in either font style.
The Floral Heart music box lid may have up to two lines of text and is limited to a maximum of 16 characters per line of Art Script font and a maximum of 13 characters per line of Engraver font.
Please complete engraving order form. Please note character limits per line based on font style and music box selection. Spaces between letters/numbers and punctuation are to be included in character count total.
Example: Happy 25th (first line of text with 10 characters)
Anniversary (second line of text with 11 characters)

---
Information Request Form
Select the items that apply, and then let us know how to contact you.